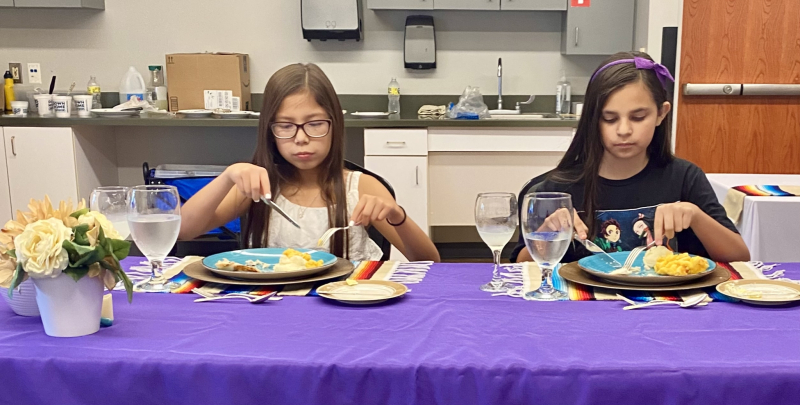 6th-9th Girls Dining Etiquette Program
with Natalie Trujillo
$26500
These are one (1) hour etiquette lessons held once a week for eight (8) weeks. Lessons will be taught at the Explora Science Center in Albuquerque, New Mexico.
Students will dine at a formal restaurant to put their newfound etiquette skills into practice (restaurant cost included with the cost of the program). 
Students are presented with 'Certificates of Achievement' after they have completed all lessons of the program.  
Parents, please note that food will be served to students during some of the lessons. Please let the instructor know of any food allergies as soon as possible. 
Lessons included are: 
 Lesson 1: Introductions 
 Lesson 2: Walking Gracefully 
 Lesson 3: Clothing Class
 Lesson 4: Dining Skills
 Lesson 5: Set Your Place at the Table
 Lesson 6: Respect & Courtesy
 Lesson 7: Four-Course Meal
 Lesson 8: Parent / Student Wrap-up
IMPORTANT: Payment must be paid in full at least two days prior to the first day of class. Payment plan options available to those paying weeks in advance. Thank you for your attention and understanding to this.
*There is a $25 fee per makeup lesson, per student. *No makeup lessons available for the Four-Course Meal and the Parent / Student Wrap-up lesson.
Cancellation policy:  If a cancellation is received at least 5 business days before the first lesson, a refund will be issued for the amount minus a 15% administration fee. Cancellations received fewer than 5 business days before the first class will not be refunded. Full fees will be refunded if the NM School of Etiquette cancels a program.
Payment plan available: $50 deposit plus 2 payments of $107.50, paid every four weeks.
Jun

3rd

,

2023

Sat

for

8 weeks

from

4:00 - 5:00 pm

Will run
Explora Science Center and Children's Museum of Albuquerque
1701 Mountain Rd NW
Albuquerque, NM 87104 Get directions