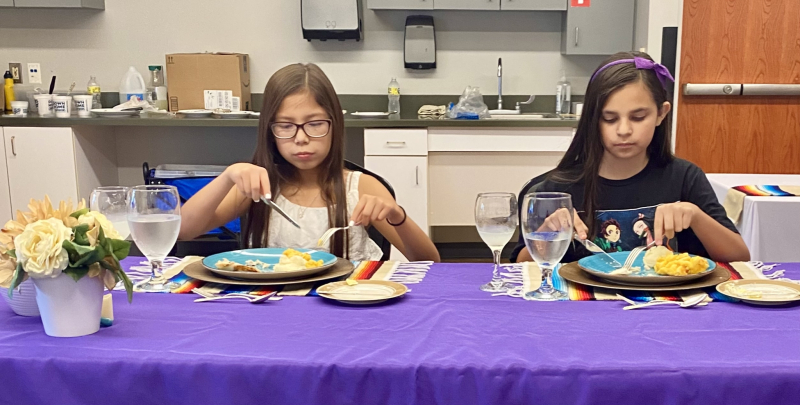 6th-9th Girls Social Graces Etiquette Program
with Natalie Trujillo
$25000
Introducing our transformative 6th-9th Girls Social Graces Etiquette Program—a voyage into the world of social graces, where eloquence and courtesy reign supreme. Social graces encompass a range of skills that are pivotal in navigating our social spheres with finesse and respect. From manners to etiquette, these skills are the cornerstone of gracious interactions that define our relationships. 
Each class is held once a week for six weeks and carefully tailored for optimal learning, ensuring an intimate setting with a limited class size of ten students, one dedicated assistant, and our knowledgeable instructor. (Class time 1hr 15 min.)
Join us as we guide your young adult towards a future marked by confidence, grace, and the ability to excel in any social setting.
 (At least five students needed to run this program)
 Lesson 1 Posture & Walking Gracefully 
Unlock the power of confident posture, a nonverbal expression of self-assuredness and respect. Students learn the art of walking gracefully.
 Lesson 2 Clothing Class
Discover the art of dressing with intention, a reflection of your unique personality and respect for the occasion. Students will work with a professional Personal Stylist to help them project a positive image (This lesson will be held at the Macy's Department Store. The time and date of this lesson to be determined).
 Lesson 3 Set Your Place at the Table 
Uncover the secrets of an impeccable table arrangement, a foundation of sophisticated dining. Students also learn the fine art of comporting themselves at the table, enhancing their dining experience. 
Lesson 4 Dining Etiquette
Delve into the world of dining etiquette, ensuring you shine in any culinary setting. Students will explore European and American dining styles with confidence.
 Lesson 5 Afternoon Tea Etiquette 
Embrace the art of afternoon tea, and let it become a treasured part of your life's tapestry. Afternoon tea is a delightful and refined tradition that has been cherished for centuries. For this lesson, students will tap into the rich history, traditions, and etiquette of afternoon tea. (Afternoon Tea Party: optional and seperate from the program cost).
 Lesson 6 Parent / Student Wrap-up
A shared experience for parents and students, this wrap-up session reinforces the lessons learned and provides tools for continued practice at home and beyond.
Our commitment to excellence is underscored by the presentation of 'Certificates of Achievement' to all students who complete the program. 
As part of our holistic approach, some lessons include meals. We prioritize your child's well-being; please communicate any food allergies to the instructor promptly. *Gluten free, dairy free, and vegan options are not available.
IMPORTANT: Payment must be paid in full at least five days prior to the first day of class. Payment plan options are available to those paying weeks in advance. Date, time, and location may be subject to change. Thank you for your attention and understanding to this.
*There is a $25 fee per makeup lesson per student (as needed). *No makeup lessons available for the Pizza Etiquette Lesson, optional Four-Course Meal, and the Parent / Student Wrap-up lesson. Please let the instructor know as soon as possible if a makeup lesson is needed. Thank you.
Cancelation policy:  If a cancellation is received at least 5 business days before the first lesson, a refund will be issued for the amount minus a 15% administration fee. Cancellations received fewer than 5 business days before the first class will not be refunded. Full fees will be refunded if the NM School of Etiquette cancels a program.
Payment plan available: $40 deposit plus 6 payments of $35.00, paid every four weeks.
Apr

27th

,

2024

Sat

for

6 weeks

from

2:30 - 3:45 pm

Will run
Explora Science Center and Children's Museum of Albuquerque
1701 Mountain Rd NW
Albuquerque, NM 87104 Get directions